Here's what the critics are saying about Jimmy's albums:
Reviewer: Tom Hyslop- Blues Revue Magazine
Jimmy Griswold cuts a guitar-intensive but song-oriented disc. The Right Road (self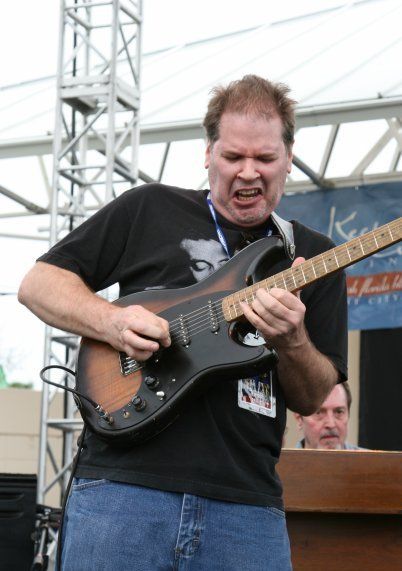 release) covers a lot of ground. Griz harmonizes leads over the funky "Nickel and Dimen'", shimmers double-stops and spins out precise, adventurous above the deep groove of "Change in the Weather", shuffles straight Chicago blues on "Push Me", and positively country-style, on the "The Letter" and "Hit It." He pulls out all the stops on a harrowing tribute to Roy Buchanan. Griswold's singing upholds the high standards of his playing.
Reviewer: Pete Feenstra U.K.
Jimmy Griswold's "Get to Work" (Grizzo Records) was released to tie in with his recent club tour of the UK. Jimmy is from Connecticut but is based in Tampa Bay, Florida. This is relevant as his guitar playing style is somewhere equidistant between Ronnie Earle and Roy Buchanan, with a hint of Florida's Les Dudek about the vocal style. "Get to Work" is superbly recorded, tough blues outing full of hot licks, unrelenting funk and the ghost of the aforementioned Buchanan. It's all there on the funked up blues of "Con Game" and the more obvious long linear guitar lines of "Buchanan's Train". This track, as they might say at the races, is worth the price of admission on its own.
Reviewer: Bruce Iglauer Alligator records
"Blues for Roy" – as Roy's producer and friend I enjoyed this.  You certainly have absorbed some good Roy-isms…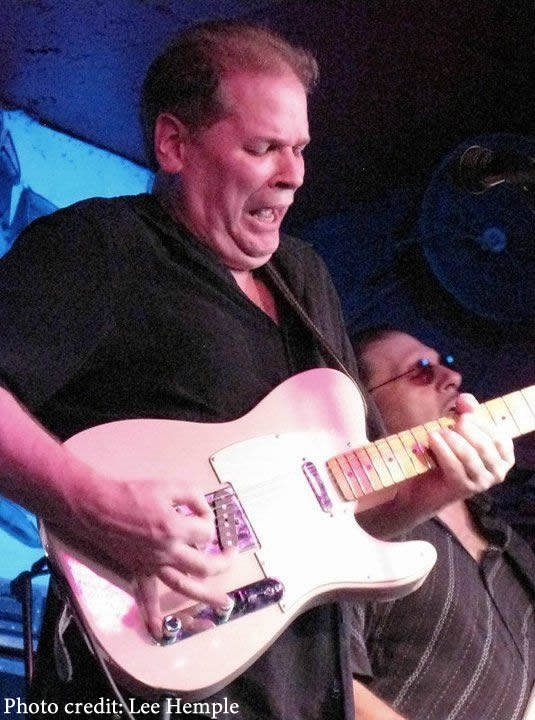 Reviewer: Blues Review
Guitar wailer Jimmy Griswold weighs in with "Get to Work" (Grizzo Records), a heady brew of shuffles and plenty of good grooves and fine songs. Drummer Tom Bell deserves credit for smart, punchy brush and stick work and B-3 man Dean Germain also stands out. "Buchanan's Train" is an evocative down-and-out lament, while "Less than Nothing" is powerfully spare rock blues.
Reviewer: Norman Davis
Jimmy plays with the ease and style of a guy who's spent a lot of nights in front of a crowd. He segues from jump soul to blues on the album, showing a lot of good influences, including Duanne Allman and Roy Buchanan. His tribute to Buchanan, "Blues for Roy", is a treat. You might think Roy was back.
Griswold is also an excellent song writer.
Reviewer: Milton Ross
GRIZ U.K. CONCERT REVIEW!!
Jimmy Griswold—Spectrum Blues Club
Jimmy Griswold's concert in St. Anne's social club was a feast for guitar lovers and not for the fainthearted.  I enjoyed his inventive style of electric blues with the occasional whiff of Latin and Jazz influences as well as finesse and blistering riffs.
He also exploited most parts of his telecaster to great effect which was reminiscent of Jeff Beck. Mesmerizing. The audience were very appreciative and at times stunned into silence before bursting into applause.
What a great gig.
Reviewer: Ray Proetto of bluespowerphoto.com
A GUITAR GOD AMONGST MORTALS:
Getting There
I hadn't heard his genius in just over two years. But I couldn't shake it off. It kept creeping into my mind. Why I hadn't returned in for so long is beyond my comprehension. It's a long drive was my standard excuse. I had other plans, a woman to spend time with… There were no valid excuses and I knew it. It was late, almost 7:45pm, Saturday, September 1, 2012. The show started at 8pm and Google Maps told me it would take two hours and twenty minutes to reach the place. It was called JC Cravers Bar and Grill. It's a neighborhood place to eat, drink and hear live music. Driving away from my apartment in my not so sporty Pontiac Aztek was unlikely to get me there as fast as I wanted. The anxiety rose as I pulled away realizing I should arrive at JC's by 10:05pm. According to Google Maps, I would miss a full two of the four hours he was going to play. That was just inexcusable. I am chronically ten minutes late for everything. Two hours… how did the time slip away?
So there I was, screaming down I-75 from Ocala toward Tampa breaking every traffic law I could think of. I was speeding, passing on the right, tailgating, slipping in between cars and trucks where I had no business slipping. Backing off the gas just a little whenever I thought a cop might be waiting in hiding. Despite taking far too many risks, it was working. I passed herd after herd of cars on I-75 as my hands grasped the wheel tightly but not too tight. I proudly made the other race car drivers on the road appear lame. Exit to route 52 West and oh shit!, a two lane road. But I Passed these cars, then those, left them all in the dust. Then it was four lanes to 19 South. The lights on route 19 seemed endless but I quickly learned to speed just enough to stop catching them. Veer right to ALT 19 and crawl through Tarpon Springs and why won't that guy drive one mile over the damn speed limit! Finally, I'm in Ozona Florida. Who ever heard of Ozona? Turn right on Tampa Avenue and a few blocks down left on Orange Street. It was 9:35pm. I cut thirty minutes off Google! I'm still proud of myself, no matter how stupid it was.
There it was, JC Cravers. I pulled into the parking which was surprisingly empty on the left side of the building. Didn't everyone lucky enough to live in the area know how amazing he was? The building was very long with a thin porch all along the parking lot side. Up a few steps, across the thin porch and I was inside. Directly in front of me was a large square bar with very few people. On my left was a large area with a couple dozen tables, most of them empty, a dance area past the tables and then a stage. Everything seemed very dated as if the wood style décor and cheap rug in the dining area was all put together in 1979. As I glanced at the stage, adding insult to injury, there were half a dozen little kids running around in circles on the dance floor evoking memories of your cousin's lousy wedding.
The Genius at Work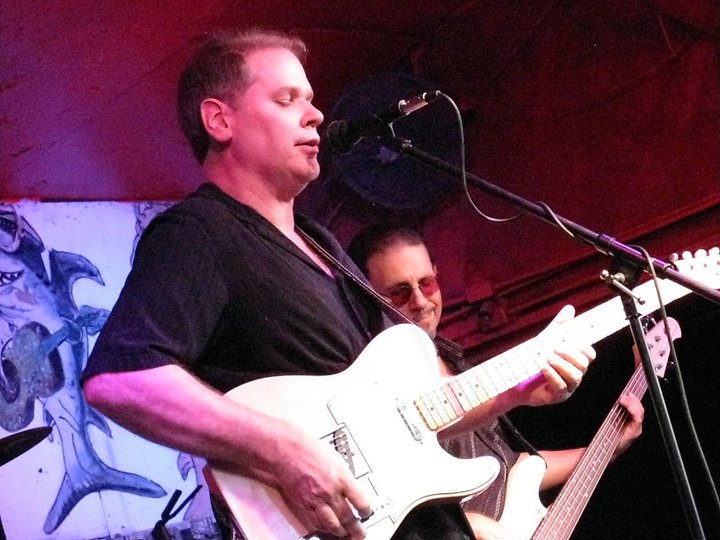 I quickly made my way past the bar toward the restrooms. As I entered where it said MEN I realized he was playing "Too Rolling Stoned" by Robin Trower. "Too Rolling Stoned" might just be another song to you, but in my house it has been on the play list since I was 15 years old and still gets played on an old mixed cassette tape at least twice a year. Leaving the Men's room I turned right and walked past most of the tables and settled in at a table on the left near the front.
Just as I sat down the song shifted gears into that slow groove with the heavy back beat on the drums. He played it like a professional hitting the solo like the original with some heavy wah wah peddle. I smiled as my teenage memories were being resurrected. He really captured the greasy feeling of Trower's original and then did what he continued to do all night long. He made it his own!
The guitar solo moved forward sounding part Trower, part Hendrix and a whole lot of Jimmy Griswold. The guitar soared and dove, screamed and cried, wailed and moaned. Then Jimmy added some of his signature lightning fast playing and wrapped it all in bow of slinky blues and sound effects.
I couldn't wipe the smile off my face. The 47 traffic laws I broke were all worth it not to miss this one song! Then it occurred to me. The same thought I had after hearing just one song every time I saw Stevie Ray Vaughan play live… "I just got my money's worth." I could have walked out of JC's after this one song and drove home satisfied. But of course I didn't.
Guitar Clinic
After the Robin Trower song I made my way past the mostly empty tables to the mostly empty bar. A few more people had arrived and I found myself among a group of neighborhood patrons who didn't seem to be in JC's to see Jimmy.
Despite their interest in conversation and drinking, most of them couldn't help comment on just how good he sounded. Some had heard him play before but most had not.
The next two plus hours were a clinic in rock guitar. Jimmy Griswold can do it all. He performed songs from his own his own catalogue and others from Jimi Hendrix, Santana, Johnny Cash, Stevie Ray Vaughan and others. Jimmy is immensely talented. He can play your favorite songs note for note in a seamless style making it all look and sound so easy… But he never will.
I'm convinced Jimmy's head would implode from boredom if he played a song straight through note for note without adding his own creative flourishes, tangents, intentionally off key notes, and ferocious surprises in each and every song.
What Jimmy possesses that most impresses is his flawless timing. While playing both the rhythm and lead parts in each song, it was all smooth as silk. The true masters of the instrument are masters of rhythm guitar who intersperse each song's rhythm with their own unique statements.
When Jimmy played Black Magic Woman, he played the verses and notes as you would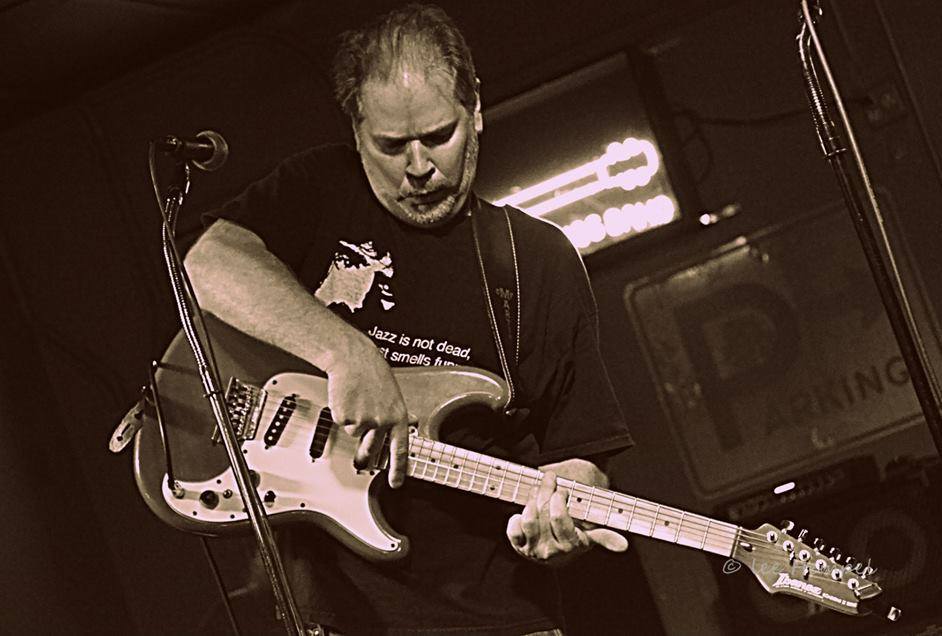 expect. Then he went on a musical trip that was so far off the deep end I forgot what he was originally playing until he returned to one of the regular verses 5 minutes later. The journey included part of a Hendrix song and some guitar pyrotechnics that had everyone at the bar checking out his hands to see how on earth he was doing it.
Later, his version of Tin Pan Alley started out note for note in that mellow style the way Stevie Ray Vaughan recorded it. Jimmy can't emulate the danger Stevie Ray conveyed with his deep vocals on the song. Rather than trying to use his voice, Jimmy expressed the frightening reality of Tin Pan Alley with violent guitar solos. Once again, he had made the song all his own.
Two of Jimmy's Hendrix covers were Foxy Lady and 3rd Stone From the Sun. He played Hendrix as if he was possessed and went off on musical trips Jimi would have been proud of.
If you've never seen Jimmy live, his own "Blues for Roy" is well worth the trip. Jimmy obviously idolized Roy Buchannan as he was learning guitar. You can hear it in his playing and this heartfelt tribute burned with Roy's signature high pitched intensity.
Jimmy's Blues
Jimmy has a quirky, cynical, and sometimes self-deprecating sense of humor. You can't miss it as he sometimes rambles on between songs with humor that is often subtle sometimes simply private jokes. He also blends his sense of humor into the music itself as he did while playing Johnny Cash's "Folsom Prison Blues." After singing all of the standard lines in the song, he inserted all of the lyrics from the Who's "Pinball Wizard" into the song without a hint of losing the timing or flow of the song.
Jimmy Griswold sings, speaks, and plays his guitar with a sardonic style which bemoans his place in the world. He is an immensely talented and accomplished guitarist who cannot convert his skills into a financial payoff of any significance.
Just in case it's not clear, Jimmy spelled it all out on his 2003 CD in a song entitled, "I Hate This Business." In the song, he gripes that he cannot meet the right people, say the right things, change with the times, or make any decent money.
His Best Work
In 2006, Jimmy recorded a live CD entitled "Live from Nowhere" which includes a collection of his best songs. The CD captures a live show of his original songs with a full band of extremely talented musicians. The sound quality is excellent and it is absent the typically annoying crowd noise of most live CDs. Until you hear some clapping at the end of each song, you would think you were listening to a studio recording. For pure guitar playing, the disc stands up to anything released by Johnny Lang or Kenny Wayne Shepherd. The selections on the disc are more rock than straight up blues and his playing exceeds both of these artists in creativity and uniqueness of style. Most importantly, the pure ferocity of his guitar solos makes this CD a must own for any fan of rock guitar.
The End
Jimmy ended the night with Stevie Ray's "Texas Flood" and blew the roof off! Everyone around me was nodding in knowing smiles as he wrapped it up. I spoke to him briefly after the show, bought two more of his CDs and thanked him for an incredible performance – which by the way, was FREE! As I started my long drive home, I promised myself I wouldn't wait another two years to hear this Guitar God again.